Grover's Guide to Campus Phallic Symbols
Introduction
For one reason or another, I've visited a lot of university campuses over the years, and I couldn't help but notice that many universities somehow feel the need to erect a huge looming tower over their campuses. Preferably one with bells on it and a clock. I don't know why this is. They are plainly expensive and clearly useless. But it seems every campus needs to prove their academic standing with at least one tower.

Recently I've noticed that universities also seem to like to put pictures of their towers on their web pages. This means it is possible that I can put together a nice little tour of campus phallic symbols without ever having to leave the comfort of my own computer. Oh joy.

So here's a selection of the finer tall thin towery things from the finer universities.

Some people seem to take this a whole lot more seriously than I do.

I don't know why I'm doing this.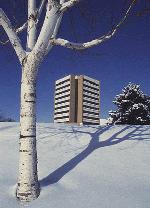 The mystery of the BYU carillon has at last been solved. Phallic symbol fans the world over have been wondering why the Spencer W. Kimball Carillon and Bell Tower (shown at left) disappeared from their BYU's web page, leaving behind only pictures of the decidedly non-phallic Spencer W. Kimball Tower (shown at right).

A local expert reports that the both towers exist, and both are named after Spencer. The carillon reportedly stands smack dab in the middle of student housing, where it wakens students with a cheery tune, played every hour starting at 6 a.m.

BYU's old web page said that the carillon was built in 1975 as a ``landmark to signal the completion of our first century and to remind us of lofty hopes with which we inaugurate our second'' and that it was tower is 97 feet tall and has 52 bells.

The other tower stands 161 feet, 6 inches tall, and is a 12-story classroom/office building.

Of course, we still can't help wondering why BYU names all their towers after Spencer W. Kimball, and why, unlike every other university we've surveyed, they don't put their bell tower on their web page (although Spencer W. Kimball's dedication speech is there).

McGraw Tower, built in 1891, is the home of the Cornell Chimes. The chimes are even older, dating from 1868. The original 1872 mechanical clock has been replaced by a computer. That's the Uris Library attached to it.

This is Duke's 210-foot chapel tower. It contains a carillon with 50 bells. Like many universities, Duke likes to use a stylized drawing of its tower as a logo for the university.

Duke is a private university affiliated with the Methodist Church and is clearly unashamed to have a church as the icon for it's campus. Presumably the fad for bell towers on campus's originated with church towers attached to campus chapels and got secularized.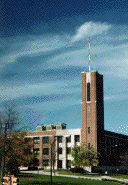 EMU has probably the most impressive phallic symbol of any university I've seen. It's actually a water tower, built in 1889, and, to tell the truth, it doesn't even belong to EMU. It's the property of the city of Ypsilanti, but it stands on the edge of campus and the EMU webmasters clearly couldn't resist the urge to claim it for their web page. This water tower recently won a contest for The Most Phallic Building in the World.

EMU also has the little tower shown at right on their web page. They actually own this one, but it's just not as dramatic as the water tower.

Recently EMU built a new library, with their own glass bell tower attached to it. I suppose I should go find a picture of that.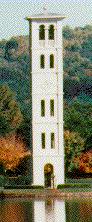 Furman's florentine Bell Tower stands on a peninsula by a large lake. When the moved their campus, they took their tower with them. Well, actually they built a replica of the original. There is a carillon with 60 bells.

For some reason, whenever anyone has an Italian style tower, they photograph so that it appears to be leaning. Is this some subtle manifestation of Pisa envy?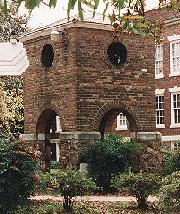 Harding has its little tiny Galloway College Bell Tower, not much more than two stories tall. Like Furman, they moved the tower with them when Galloway College moved. Though, frankly, It seems a less impressive accomplishment.

The Galloway Bell Tower is still used to "ring curfew" they say. Curfew?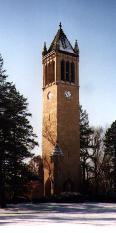 Iowa State shows off its school's pride with the Edgar Stanton Memorial Carillon built in 1897. The Iowa State web page throws some new light on the useful purposes served by gigantic phallic symbols on university campuses:
An ISU woman is not a 'true coed' until she has been kissed under the Campanile at the stroke of midnight. After the kiss, she must anonymously drop jelly beans outside each girl's door in her house. Any senior who hasn't achieved coed status before graduation must drop lemon drops.

For each true coed who has remained a virgin at her graduation, one brick is to fall out of the Campanile. So far, all its bricks are intact.
Is that's what these towers are all about? A totem against virginity?

A fan from Louisiana submitted this LSU's Memorial Tower for our consideration. It was built in 1923 as a memorial for WWI veterans and stands 175 feet tall. He says
It used to have a small museum in it but they moved the museum out to the suburbs.
It works even during strong hurricanes.
It overlooks the "parade grounds."
I like to think I see a subtle pinkish hue in images of this Baton Rouge tower.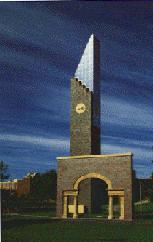 Mankato joined the ranks of the tower-owning Universities in 1989 with the construction of the Ostrander-Student Memorial Bell Tower, shown here. Like many university towers, the alumni coughed up for this handsome ornament to Mankato's academic prowess.

Pretty sharp, eh?

Michigan State's Beaumont Tower houses a 47-bell carillon. Their web page is just littered with images of Beaumont Tower coyly hiding behind trees. This picture shows only the top bit, but it's the best I could find. Compared to the generally similar Duke and Trinity towers, it's curiously asymmetrical. The extended corner peak is called "the finger of God." This seems to suggest that God is giving MSU the finger, but I suppose that's still a less disturbing image than "the penis of God."

According to the web page, "There is an old MSU tradition that one does not become a true Spartan until one has been kissed in the Tower's shadow." Note the similarity to the Iowa State University tradition. It's amazing how many school's fine old campus traditions turn out to be slavish copies of other school's fine old campus traditions.

The Beaumont Tower also serves a the icon of the "Tower Guard," which was founded in 1932 as an all female honor society, dedicated to serving the needs of visually impaired students. It went co-ed in 1977.

Michigan Tech is one of those rare universities that lacks a bell tower. So it over-compensates with it's R. L. Smith Mechanical Engineering building, which, I am told, is affectionately known to students as "the brick dick". It is alleged to be the tallest building in the U.P.

Michigan Tech's web page provides the further useful information that one of the elevator buttons does not work and that the fifth and eleventh floors are painted blue inside. Isn't the internet wonderful?

The Chapel of Memories at Mississippi State is built out of bricks from an old dorm. The web page claims that it contains a carillon, but the Guild of Carillonneurs in North America calls it a "thing that is not a carillon." Electronic bells, would you believe it? Have they no shame?

Judson Hall's tower in a nice Italian Renaissance Eclectic building. NYU's web page says it was built in 1985 and acquired by the University in 1925. Don't ask me.

It also seems to be leaning, in the Italian style.

This is the Prayer Tower. It is 200 feet tall and serves as the visiter center for Oral Roberts University. There is also a team of professional prayers housed there. You can submit your prayer over the web.

This tower is clearly supposed to be cruciform and crown-of-thorniform, but most certainly not phalliform. An admirable solution to the difficult problem of raising a tower, (just like a real university) but coyly covering it with layer after layer of "no no no it's not that kind of tower" symbolism.

Which is actually kind of odd, considering that campus bell towers are a secularized version of church towers. You'd think re-secularizing a de-secularized concept would lead to a result closer to the original.

A genuine Purdue MBA reports: Purdue University also had a case of bell tower envy. The tower has been rebuilt at least three times. All sorts of disasters have leveled it, but every time it has been rebuilt it gets taller.

Our research indicates that the first Purdue bell tower was built in 1894 but was destroyed by a fire four days after it was dedicated. The second tower was supposed to be "one brick higher" but, due to a miscalculation, came out nine bricks higher. This tower was torn down in 1956, after which Purdue limped along towerless for nearly forty years before it's academic prowess was finally restored by the new tower in 1995. The bells from the previous tower are among those in the new tower.

Hardy tower towers 137 feet above Montezuma Mesa. It used to be a water tower, but now holds yet another carillon. (Well, an electronic simulation of a carillon.)

I'm surprised more universities don't paint their tower an ivory color. Too obvious?

Many photographers seem to want to hide their towers behind trees. Next best thing to a fig leaf, I guess.

The 285-foot Hoover Tower is named after ex-president Herbert Hoover and is the home of the Hoover Institition on War, Revolution and Peace. It contains a carillon whose largest bell is inscribed, "For Peace Alone Do I Ring", leaving 47 other bells available for War and Revolution.

This is Crouse College's Romanesque tower, on the campus of Syracuse University. It was built in 1889 and has chimes.

Somebody really, really, really wanted me to include it here. Well, OK, he said "it's up to you."

The Syracuse University Chimemasters "aim to instill a respect for the history and traditions associated with the Crouse Chime amongst both the members of our group and throughout the University community" but their web page doesn't say what any of the traditions are.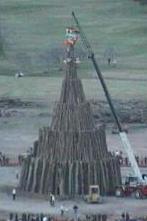 Texas A&M's Albritton Bell Tower, shown at left, stands 138 feet tall and contains yet another carillon. It's surrounded by a circle drive, so you can drive your pickup truck around and around it all you like.

Texas A&M has lots of neat campus traditions, but none of them involve the Albritton Bell Tower, which is too new to be traditional. However Texas A&M did have a unique tradition of building (and setting fire to) towers. That's Texas A&M's 1995 bonfire at right. The Aggie Bonfire page used to have pictures of bonfires. Now it's mostly a memorial to the students killed in the 1999 collapse.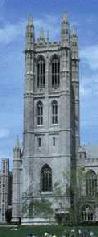 The Chapel tower at Trinty College contains the Plumb Memorial Carillon. It has 49 bells.

It looks exactly like Duke University's tower.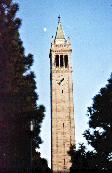 Sather Tower (aka "the Campanile") was built in in 1913 and stands 307 feet tall. It is modeled after a tower that stands in the Plaza San Marco in Venice, Italy, so, of course, the photographer had to hold the camera crooked so it would appear to lean. It has a clock and 61 bells.

Sather Tower has an object-oriented programming language named after it.

The Sather Tower is guaranteed quakeproof, so that can't be why it's leaning.


Last week, while drinking with the other lowlifes in a scummy wharf-side bar, I was accosted by a person in gray rain coat, who passed me a soggy floppy disk from which I extracted the above image and the following text file:
Your phallic work is world renowned, but why have you left out Cambridge University Library?

Unlike other academic phalluses this one does not pretend to great height, and the scrotum is properly represented by the building, a sort of flaccid, stubby, fat, academic's phallus I hope you'll agree?
Yes, of course, but hasn't anyone at Cambridge got a camera?
Here's the Braniff Tower which is on the University of Dallas's Irving campus. It was built in 1966.

Looks like a chimney.

The University of Florida's carillon is installed in Century Tower which was built in 1953. The original plan was to put a museum inside, but they haven't gotten around to that yet.

Apparantly UFL has decided to build a new clock tower, as a sort of student project. This is a good idea. There are still some towerless universities, so clearly there is a natural job market for students experienced in tower building.

The tower of the University of Idaho's Gothic-style Administration Building dates from 1909.

This picture from the University's home page appears to show some odd effects the tower has on local cloud formations. Maybe it's nuclear.

UIUC's Beckman Institute has this proud little tower pasted to the front of it. It really impressed me when they showed me the artist's impression back when I interviewed there in 1988. I managed not to break into hilarious laughter. The tower is good, but you should have seen the artist's impression. UIUC's web page lets you walk around it an look at it from all angles. Real cool.

UIUC also has a the Altgeld Chime Tower, which holds a clock and 15 bells (not enough to be a carillon, but just enough to play "Illinois Loyalty"). I haven't been able to find a decent picture of Altgeld Chime Tower though, so you'll just have to just visualize it.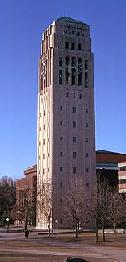 My own alma mater has a handsome carillon tower called the Burton Tower on its main campus. This is shown at left. It was built in 1936 and stands 212-feet and 10-stories high. I'm told it was supposed to be taller, but they ran short of funding. There are actually some offices and classrooms in this thing, and at least one regent has jumped off it, so it does serve some practical purpose.

As more classes moved to the North Campus, the U of M apparantly became concerned that academic standards would grow flacid if so many students had no tower to look up to. So they built a brand new 165-foot tall tower on North Campus, the Lurie Bell Tower, shown at right. For the most part simply a modernized version of the Burton Tower, it does introduce one innovation seen on no other campus tower - testicles, in the form of two small shiny-roofed structures standing in front of it. The previous image I had posted here did not show these properly, causing many complaints from people who felt that this detail placed the Lurie Tower in contention with even Eastern Michigan University's awesome water tower in nearby Ypsilanti.

Here's a picture of UNC's Morehead-Patterson Bell Tower. It's got twelve bells, and it is trying to hide behind a tree. Perhaps it's hiding because it would need at least eleven more bells to qualify as a carillon. Good tower though.

Late breaking news indicates that the Morehead-Patterson Bell Tower acquired two more bells in 1998. Hurrah! Only nine more to go!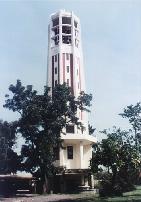 Here's a carillon tower from the southern hemisphere. If you live in North America, picture this upside-down.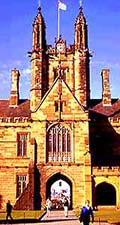 The University of Sydney War Memorial Carillon is in the clock tower of their Main Building. (Or, their web page says it is a clock tower - do you see a clock?) It has 54 bells all cast in England.

The building has a fanciful story-book look, but it isn't much of a tower, heightwise. I don't think those down-under deans have quite got the academic spirit.

UT Austin's Main Building Tower has a grimmer than average history. Back in 1966, an engineering student climbed up to the 28-story-high observation deck with three rifles and 700 rounds of ammunition and started shooting. Sixteen people were killed and 32 injured before police officers were able to shoot the guy. After being closed for many years, the observation deck is now once again open to visitors, but only with police escourt.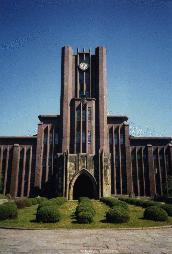 Apparantly Japanese Universities have towers too. This is Yasuda Hall. Nifty place, huh? I think this may be the tower most likely to have Yoda living in it.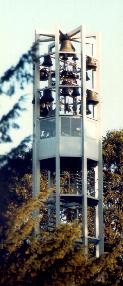 This very functional-looking carillon tower dates from 1960 and is at the University of Twente in the Netherlands. It looks like it might double as an air-traffic control tower.

From their web page, the carillon tower seems to attract quite a lot of activity. There are pictures of it all dressed up in Christmas lights and of the mountain-starved student alpine club climbing it. Twente is one of the few places where they actually let the students play the bells instead of hiring a professional.

The University of Wisconsin's Carillon Tower is more than 85 feet tall and has 56 bells.

Why does this picture look to me like a somewhat grandeous stage set for "Camelot?"